Highland Beach Home Tour Etiquette Guide | HighlandBeachRealEstate.com
Posted by Stephanie Kukich on Friday, July 6, 2018 at 12:59 PM
By Stephanie Kukich / July 6, 2018
Comment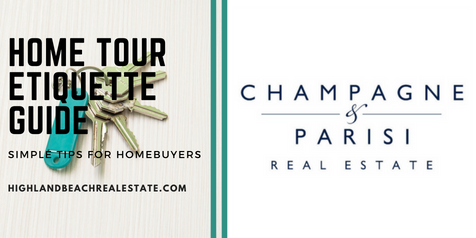 When it comes to Highland Beach house hunting, sooner or later you're bound to find yourself confronted by a question of proper home touring etiquette. After all, you're an invited guest in somebody else's Highland Beach home for sale—someone who you don't know, who isn't around, and whose house rules are a complete mystery to you.
As you'd expect, the normal rules of courtesy still apply—except when they don't. For instance, if you are visiting a friend's home, it wouldn't be very polite to go about opening up the bedroom closet doors—when touring prospective homes for your next HIghland Beach real estate purchase, unless you are instructed otherwise, that's a behavior that gets a green light. You might be treated to a "peek and shriek" if the seller has resorted to some last-minute decluttering via haphazard closest-stuffing, but house touring etiquette says that closet inspection is acceptable and even expected. Closet space, after all, is a valuable part of the home's layout and an important consideration for many when buying a home.
Less clear are any number of gray areas. When your house hunting leads you through an extensive number of home tours throughout various Highland Beach communities, you're bound to run into some of them. Guidance from the website Houselogic names the most common house tour protocol questions as follows:
• Is it okay to bring in my coffee?
• May I use the bathroom?
• How about a quick selfie next to that nice [fill in the blank].
• Is it okay if I plop down on the sofa?
Fortunately, you don't need to dust off a copy of Miss Manners or send off a query to Dear Abby, because the answer to these and other modern house touring conundrums can be summed up in two simple words, "JUST ASK!" Whatever the answer might be, you will have fulfilled your duty as a most conscientious house hunter, ensuring a pleasant home buying experience for yourself, as well as a pleasant experience for the home seller. Finding and buying a home may seem like a daunting task, but remembering this simple tip of home touring etiquette will keep you in the good graces of all parties involved. Happy house hunting!