LIGHTS OUT HIGHLAND BEACH
It is that time of year. March 1 to October 31 Highland Beach has an ordinance requiring lights off along South Ocean Blvd, from dusk to dawn.
Sea turtle hatchlings use light to find their way to the water. No flashlights or flash photography is allowed on the beach.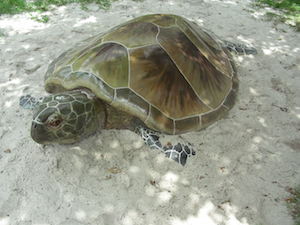 WE LOVE OUR TURTLES!
Do not disturb the nest, keep beaches litter free from fishing lines, balloons, plastic bags. Sea turtles confuse these with food. For example a plastic bag may be mistaken for a " jelly fish " a major part of a sea turtles diet.
Be sure to stack beach furniture 10 to 15 feet apart , so the sea turtle has room to turn around, they can not go in reverse.
We can expect to see... Loggerhead Turtles that weigh up to 350 pounds, Green Turtles that can weigh up to 400 pounds, Leatherback Turtles that weigh 1, 545 pounds.
WHAT WILL IT BE ?
Depending on the temperature... warmer temperatures produce females and cooler temperatures produce males. Nesting Sea Turtles return to lay their eggs in the same region where they hatched. Watch for the orange "flags" on the beach. The turtles will start arriving shortly.
I know Highland Beach... I live here! Highland Beach...where summer never ends.
Irene Durocher, Realtor
Direct: 561-302-5813
...